About Ice Age
About Us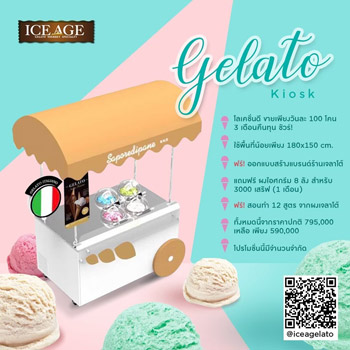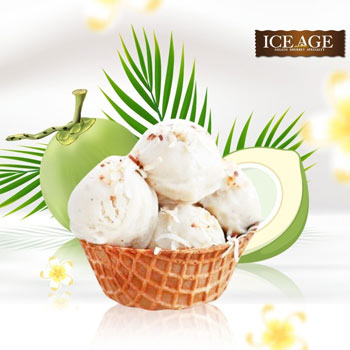 Ready to deliver all over Thailand. Phone now 021708640
About Ice Age Company Limited
Ice Age Co., Ltd. was established in 2009 by Kittiporn Nantanon, alias Kitty Ice Cream as generally everyone called her since. Kitty Queen of ice cream is the founder of Ice Age Company Limited and she has been operating as general director of this ice cream business since the beginning till nowadays. During these years she improves her expertise in the ice cream field in many ways. She also participated in various activities and follow courses even in Italy at the Gelato University in Bologna. She also participated in the ice cream industry exhibition held around the world and in Italy and obtained various awards in Thailand. Many customers can guarantee the ability and the quality business of Ice Age as well. You are currently viewing the website of Ice Age Company Limited. At present days, Ice Age Company Limited is managed by Kittiporn Nantanon (Miss. Kitty). The new facility is located at 399/21 Village No. 13, Soi 25/1 of the King Kaew Road of Bangkok, really close to the international airport Suvarnabhumi in the Racha Thewa Subdistrict, Bang Phli District, Samut Prakan Province. Thailand Ice Age Co., Ltd. has an ice cream factory with internal production units that have passed the production standard control in every step of the production process. In order to build confidence and stability in the quality of the gelato and ice cream to consumers, Ice Age continuously includes the upgrade of ice cream production machinery such as automatic pasteurization machines (Milk boiler), heat sterilization, biological control points all in a system designed to destroy bacteria that cause various diseases. In addition to this important work procedure, precautions are placed also to help and provide the correct moisture level to the mix of ice cream (Protein Stability). Our ice cream production process uses real fresh milk and whipped cream. Combined with quality selected ingredients such as vanilla pods (imported directly from Indonesia), strawberries, chocolates, pistachios and many other ingredients. In addition to the imported raw materials fresh local picked fruits are being arranged in a cold room for production throughout the year.
The combination of Italian gelato ice cream and fresh, local seasonal ingredients helps reduce the cost of importing ingredients from abroad. And even helping the people in the area to earn more using local agricultural products as gelato ingredients. Good opportunity to open the ice cream market in new flavors occur daily. For example, fresh milk Hokkaido style, bananas, mango, passion fruit, coconut, durian, lychee, pineapple, watermelon, dragon fruit and many other Thai fruits to produce Italian gelato ice cream.
Ice Age's started doing business in one corner of the house. Started as a family production. It has since expanded the business to develop the production process continuously until now which has a large production capacity sufficient for fully satisfy the customers.
More than 10 years of a successful production of authentic gelato and ice cream, innovative flavors, special ice cream, creation of ingredients for the food industry, retail stores and hotels in Thailand.
As a growing company, we intend to be a leading source of information on the Thai ice cream market, especially in the production and distribution of high quality gelato, sorbet and sherbet.
Ice Age Company Marketing Principles
Focus on products or services:
Manufacture and sell ice cream, ice cream ingredients and ice cream equipment of all kinds.
Target audience:
Bakeries, hotels, hotels across B2B and B2C, cafes, restaurants, ice cream makers, ice cream parlors.
Inspiration:
To build an evolving gelato ice cream business and use low cost principles but high product quality
Ice cream history
History and origin of ice cream Since the beginning.
It is not clear where to start. Some information is from China. Some say that it began in Roman times. The ice cream was given to soldiers and people, in those days and were made of ice crystals from snow, mixed with honey for sweetening plus various kinds of fruits mixed together as they like, which is very similar to the today's sherbet of Italy. Some say it comes from Italy, with Marco Polo traveling to China. There is also an ice cream beginning traces from England, during the reign of King Charles I: one of the chefs had a recipe of frozen cream, seasoned and beaten up and then blending with sweetness, which was a top secret recipe sent as a dessert to the King.
It is believed that ice cream when eaten helps to feel comfortable and relaxed, and also when we have a sore throat can be a pleasure to consume sherbet.
Nowadays in different places in the world there are different concepts and beliefs about ice cream. However, we must thank our ancestors from all over the world for creating ice cream for us. From the past to the present Many kinds of ice cream are allowing us to taste this delicious cold dessert being trusted by all ages and genders.
The Head office of Ice Age Company Limited is located in Samut Prakan on the outskirt of Bangkok. Phone 021708640
For Chiang Mai branch inquire Khun Kitty 0851215199
For Phuket branch inquire Miss Kitty 0851215199
For Hua Hin branch inquire Miss Kitty 0851215199
For Pattaya Branch and hotels services Miss Pang 0918835631

Thank you for your visit